CurcuGenix
Inflammation Control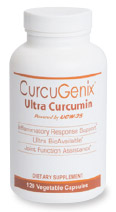 1 Bottle
$64.95 $54.95
Plus $4.95 S&H Charge
"Save $10.00"
3 BOTTLES
$148.35
Plus $9.95 S&H Charge
Add to Cart
"Buy 3 and Save 10%"
Before Ordering - Consider Our Complete Inflammation Control Package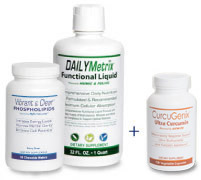 Vitality Combo plus Natural Inflammation Control featuring CurcuGenix
This combination uses the foundation to all our Comprehensive Packages and adds Natural Inflammation Control Support. These three formulas work synergistically to provide the body with a wide spectrum intrastructure for overall health and Inflammation Control. The comprehensive approach is to Enhance Cells with Vibrant & Clear Phospholipid Wafers, Feed Your Cells with DAILYMetrix and help moderate inflammation with CurcuGenix.
Read More
International customers must order 3 bottles or more.